'WE'VE played some really good football and we've scored some good goals but we've got to learn to do it ugly.'
Those are the thoughts of Bovey Tracey manager Will Small, who reflected upon his team's start to the season.
'It's not always about playing pretty football,' Small continued, 'and it's not about what's best for you, it's about who's going to dig in and graft and grind out for you.
'Unfortunately, two occasions that stick out are Torrington [2-0 defeat] and Teignmouth [4-0 defeat], where we've turned up with completely the wrong attitude. But we'll pick ourselves up, we go to Dartmouth [on Saturday] in the cup and it's a chance to put it right there.'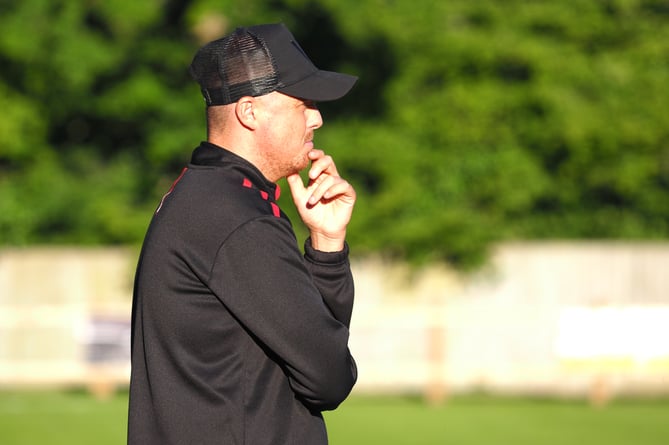 Bovey manager Will Small believes his side have 'got to learn to do it ugly' if they are to challenge near the top this season.
(Alan Craig)
Bovey Tracey sit ninth in the South West Peninsula League's Premier Division East, with 21 points on the board. While 11 points off the lead, they are still very much in contention for a top-four spot with two games in hand over some of the other clubs vying for promotion.
Draw-less Bovey had a rocky start to the season with four losses from their opening six matches, but a turn in form saw Small's side record five wins in succession throughout September. They conceded just two goals in the month too, which came as mere consolations in a 7-2 dismantling of Bridport. Other notable wins include a 6-0 thrashing of Dartmouth and a valiant 2-0 away win against previously-unbeaten league leaders Ivybridge Town.
The Moorlanders continue to enjoy cup football too, with a run in the FA Vase seeing the side take qualifying-round wins over Newquay and Western League side Welton Rovers. Ivybridge await in the First Round Proper in what will already be the two sides' third meeting of the season.
'I think we've been pretty average,' Small explained. 'We've played some good games and played well and we've had some games where we let ourselves down.
'I think [the loss to Teignmouth] sums up our season; off the back of a good result last week with a 4-0 win over a good Sidmouth [Town] side, we come [to Teignmouth] and we lose 4-0. That's where I think we are at.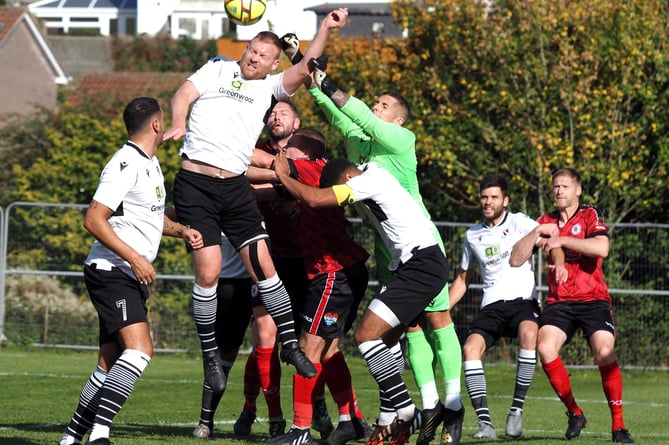 Bovey were comprehensively beaten by Teignmouth last week, bringing to an end a five-game win streak.
(Alan Craig)
'The lads have got to realise that we need to turn up and be totally on it, 100 per cent, every single game to get anything out of it. We have got to get out of the bad habit of thinking we can just turn up and not fancying the working hard bit. We've kicked that out the last seven games; we've turned up, we've had the right attitude and we've worked hard.
'[Against Teignmouth] we were missing a couple players and the impact that has had on the changing room is massive, and it shouldn't be the case because what we've got in there should be enough to get a result.
'[It has been a] pretty average start to the season and we are where we expect to be; in and around the top half and hopefully pushing for the top spots but we have to do a lot better than we did [against Teignmouth] if we do want to be in that top four.'
---
Teignmouth have fared better in their opening 12 matches. Sat in sixth on their return to the Peninsula League, the Teigns have had a great start. Seven wins, a solitary draw and four losses have contributed to an opening period in which they have claimed 22 points, but gaffer Liam Jones believes they could be doing better.
'Disappointingly, I think performances warrant another six points across a few games,' Jones said, 'and we've not quite got them, so I think that element of cuteness and of professionalism is the difference between the next 10 games.
Teigns manager Liam Jones says that their 'performances warrant another six points.'
(Steve Pope)
'We try and break the season down into fives, so we were at it after five [games], the second five have been poor, and we're just coming out of that third five. We've certainly got areas to work on and the big challenge is going to be when the weather turns, the pitches change and it becomes a little bit more difficult to motivate players.
'Once it gets cold and wet, let's see where we are really at.'
Notable results include a 4-0 win over Bovey Tracey last weekend and a thrilling 3-2 comeback win away at Plymouth Marjon on opening day. Ten different players have found the net for the Teigns already this term, combining for 25 goals in league play. Ash Donohue paves the way in front of goal with seven goals from 11 appearances.
'I think we've left points out there, which is disappointing,' Jones said. 'I don't mind losing football matches; we deserved to lose certain games this season and that does not mean we deserved to lose every game but there's just elements where the result has been self-inflicted. We're not a million miles away but we've got area where we can probably get better.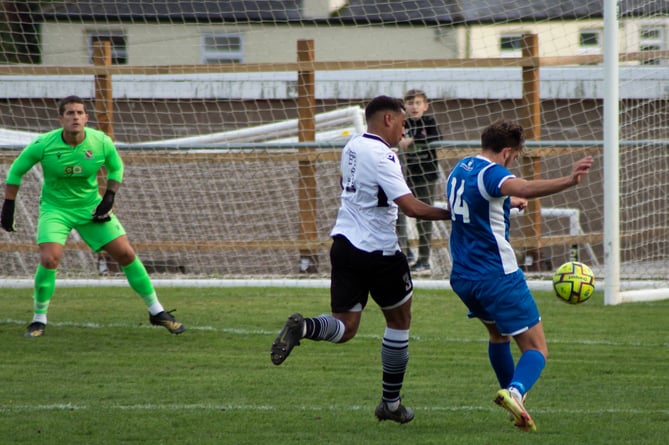 Teignmouth were narrowly beaten by high-flying Crediton United at the start of October.
(Josh Goodman)
'We've been to Okehampton [Argyle] and drawn when we should've won, we went to Dartmouth and got unlucky. It sounds a bit cliched to say we were unlucky, and I'm sure a few managers say it but I think we've genuinely been unlucky in a couple games this year.
'I think we're probably a bit closer to some of the stronger teams than our league position suggests and some of our results suggest but ultimately you've got to do it on the pitch.'
---
'I think we're on par with where I expected us to be,' claimed Newton Abbot Spurs boss Marc Revell. 'I've been disappointed with a couple of games but I've been massively delighted with a lot of them. We're on the right track.'
Seven points back from promotion and sitting eighth, between Teignmouth and Bovey, Newton certainly are on the right track. Spurs have not had an easy opening to the season, but with games against some of the strongest teams in the division out the way already, they will be hoping to launch into a good run over the coming weeks. Newton's results do not do the strength of their side a whole lot of justice - neither does the league position. They are a side with more to give and can be expected to be right in the mix come the season finale.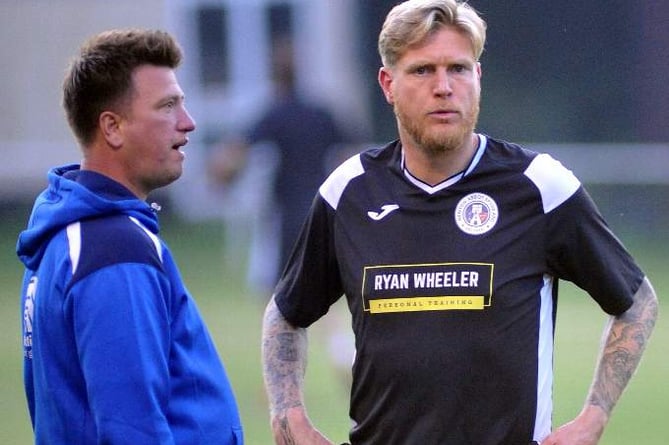 Spurs boss Marc Revell (right) was 'massively delighted' by many performances in his side's openign 12 games.
(Steve Pope/MDA)
Spurs have not had much joy in cup competition this season. A Vase victory away at Somerset-based Radstock Town set up a meeting with Bath side Odd Down in the Second Round Qualifying, but Revell's side were beaten on penalties. Just three days later, their shootout woes were repeated as they were knocked out of the Devon St Luke's Challenge Cup on penalties by Exmouth Town after a captivating 3-3 draw with the Southern League Division One outfit.
'It looked a little bit bleak after five or six games because we had lost two or three and we were staring down the barrel a little bit,' Revell said. 'Because we've played such a high level of [opposition] already - we've played all the teams above us and Ivybridge twice - so to be six wins, three draws ad three defeats and having only conceded 15, it is an improvement on last year and it looks a little bit more solid and mature than last season's gung-ho 7-2 defeats at Torpoint [Athletic].
'I think the league is a lot tougher than I expected it to be this season,' Revell continued. 'There's eight to 10 teams involved in that promotion chase - but, bearing in mind we've brought no-one in from last season, I've given the lads the chance to build on last season and I think they've done exactly that.'
'I've congratulated the lads,' Revell said. 'I'm trying to keep encouraging them for everything positive that they're doing because my philosophy on football, business and life is to seek criticism, not praise.
'I say to my lads: 'I don't need to stand about telling you how good you are, I should want you all to sit there and ask me what you need to do better.' You don't want to be told how great you are because that's where complacency and arrogance sets in.
'I gave them a good bit of praise yesterday in the WhatsApp group, I said: 'Look, lads, credit to you all for the way you responded to losing to Dartmouth at home.' We've gone unbeaten since then, they've been fantastic with their application, I get great numbers for training and defensive records we're like fourth best in the league.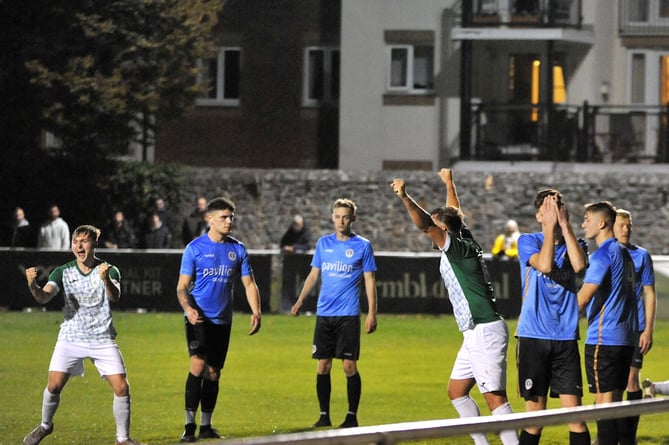 Newton Spurs fought back to earn a valiant point against league leaders Ivybridge Town on Tuesday night.
(Steve Pope/MDA)
'But to be there having played Brixham, Ivybridge twice, Dartmouth, Bovey, Axminster [Town], Okehampton [Argyle] and Crediton [United] - a team that hasn't lost - they deserve a lot of credit for it, so it's an improvement on last season. I just think we look a little bit more solid this year and a little bit more street-wise.
'Overall, if it was a graph we would still be trending upwards - we haven't spiked yet, we haven't plateaued but we're still on the way up.'