Teignmouth's caring angel of India's forgotten slum children
Friday 20th November 2020 7:47 am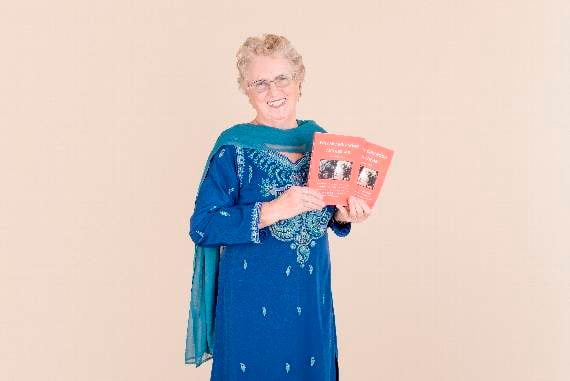 Caring and dynamic charity founder, Anita Edgar-Cole with her new book 'Why Me? Why Now?' By Rochelle Kate Ross.
()
Subscribe newsletter
Subscribe to our email and get updates right in your inbox.
Compassionate 'angel of mercy,' Anita Edgar Cole, who has dedicated more than two decades of her life, and counting, to improving the lives of tens of thousands of street and slum children in India, has written a book about her inspirational story.
Coming face to face with destitution and poverty in the hopeless slums of Goa while on holiday in the sunshine state in 1996, Anita decided there and then she couldn't just walk away from the children she saw scavaging for food in the wasteland behind her hotel.
Unable to get the heartbreaking sight out of her mind, Anita, from Teignmouth, spent the next couple of days of her vacation finding out everything she could about the ragged, skinny children.
She discovered they all lived in the nearby slums. Some had families while others were orphans, and all were at the bottom of India's social ladder.
Known as the 'untouchables,' slum children hail from migrant families and do not exist in the eyes of the law, which means they cannot attend school, see a doctor or access hospitals or any other services provided by the authorities.
With no prospects of a better life, many also suffer fear, violence, abuse, explotation and abandment in the slums.
Shocked and saddened by what she found out, Anita vowed to do something to help the children, believing she would never have any peace of mind if she were to turn away.
A chance meeting a few days later with a local pastor, Matthew Kurian, who shared her goal, led to the pair joining forces to establish the El Shaddai Charitable Trust in Goa.
Twenty-three years later the charity has grown beyond their wildest dreams and now encompasses seven residential homes, three day-care units, Shanti Niketan non-formal school in Assagao, two pre-schools and more than 100 slum schools.
The charity also runs an outreach programme, including three community centres for women and children providing them with basic education, health care and micro-loans.
There is also a child advocacy and intervention unit in Panjim which works towards enforcing child protection laws, raising public awareness, helping young offenders turn their lives around, rescuing children from abuse and providing lawyers to bring abusers to justice.
As if this wasn't enough, El Shaddai has also provided 12 bore-wells to supply clean water to thousands of people; distributes hundreds of meals on wheels to hungry people every day; sends out teams to help build, repair and improve shelters and living conditions; and is involved in government schemes for the development of women and children. All of this is funded by various campaigns including the Goa Marathon and the charity's flea market shop, plus the exhaustive number of presentations and seminars Anita continues to give about the work.
She generally spends six months a year in India and six months fundraising in the UK and around the world, but due to Covid-19 is unable to return to India at present.
In her book 'Why Me? Why Now?' devoted Christian Anita describes herself and Matthew as 'just two ordinary everyday people' unequipped for the task ahead.
It was their faith in God, she said, that gave them the tools they need to succeed.
And 23 years later, at the grand age of 75, Anita shows no signs of slowing down, citing the happy children she has rescued as her motivation.
She laughed: 'I've always had energy, I go at 100 miles an hour at everything. I get told off by always jumping into something before the first thing is complete... and on and on I go!
'I only have to think about the children I have rescued from the most appalling conditions, many from physical and sexual abuse, to seeing them today – no longer skinny and covered in scabies, lice and many with bruises – looking fit and well in our nice school uniforms or in smart churidars (Indian dress) going off to college or university; or to hear a little voice saying "Anitamother I love you" – that's what motivates me.'
Anita's remarkable character shines through her action-packed book, where she describes fearless feats such as entering notoriously dangerous deprived areas and helping victims in natural disaster zones. Its pages also contain many moving stories of the rescued children.
Anita said: 'I am proud that over 70,000 children have passed through our hands in the past 25 years.
'I feel so happy when I hear of their achievements, and when they get married and bring their baby and ask me to name the child it makes me cry I'm so happy.
'I have so many feeling I am lost for words.
Anita was brought up in Kingsbridge where her father, Richard Holman, owned the first radio and television shop at the top of town.
She became the first female farrier in the UK and at the age of 18 ran a riding school in Malborough where she trained jockey Jimmy Frost, who went on to win the Grand National on Little Polveir in 1989.
Anita later trained as an NHS nurse and then spent ten years driving aid trucks to Eastern Europe before establishing El Shaddai.
Why Me? Why Now? was written with the help of friend Lorraine Kelly and Anita hopes it will raise awareness of the plight of Indian slum children and help raise money for the charity.
She said: 'Our work is far from finished. If anything, the crisis of homelesses and poverty is increasing year by year, and not only in India.'
Anita hopes her book may inspire others to follow their own dreams.
'If anyone feels God is talking to them or if they have a dream or a vision, don't dismiss it, act on it. Step out in faith and don't ever let anyone put you off,' she said.
Comments
To leave a comment you need to create an account. |
All comments 0