Peacefully getting the message across
Tuesday 24th May 2022 6:00 am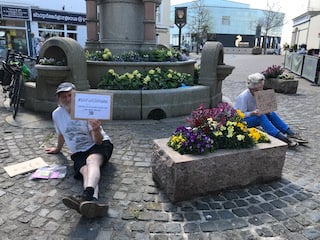 SitForClimate campaigners have been holding their peaceful protests in Teignmouth and Dawlish.
Subscribe newsletter
Subscribe to our email and get updates right in your inbox.
CONCERNED residents from Teignmouth and Dawlish took part in an on-street sit-in for a second week running.
The peaceful action, part of a growing, UK-wide movement, is designed to catch the eye of shoppers, prompting them to note that climate change is already happening here in the UK.
'We are ordinary people, deeply troubled by the climate crisis, and wanted to take some positive action to show our concern,' said Gilly Robinson, of Dawlish.
'Gaining public attention by sitting silently each week is one way to keep climate change in the forefront of people's minds, while they go about their daily lives.
'It's a reminder that we all need to take action, right now
'It's vital we keep pressure on the government to stick to the pledges it made at the Paris Agreement, the G7 Summit and COP26 to significantly reduce greenhouse gasses.
'Despite all its promises, our government is keen to 'remove barriers' to increase extraction of fossil fuels from the North Sea.
'Passers-by are quite curious about what we're doing,' added Gilly.
'Most people smile, or give us a thumbs-up, and a few come over to chat, asking more about the climate emergency, or wanting to know what else they can do to reduce their own carbon footprint.
'It's been heartening hearing parents explain to children why we are sitting on the pavement!'
'The #SitForClimate is open to everyone, everywhere, every week!,' added Lisa Thorne, fellow 'sitter' from Teignmouth.
'We sit quietly by the fountain in Teignmouth Triangle each Saturday, at 11am, for just 10 minutes.
Gilly and Lisa add that their group is not alone in its concerns.
'Antonio Gutteres, the UN Secretary-General, described the findings in the recently published IPCC (Intergovernmental Panel on Climate Change) report as a litany of broken promises.
'Climate activists are sometimes depicting as dangerous radicals,' he said.
'But the truly dangerous radicals are the countries that are increasing the production of fossil fuels.'
He added that projections of major cities under water, unprecedented heatwaves, terrifying storms and widespread water shortages were not fiction or exaggeration, but what science says  will happen with current energy policies. 
'We are on a pathway to global warming of more than double the 1.5 deg C limit agreed in Paris.
'Some Government and business leaders are saying one thing, but doing another. Simply put, they are lying. And the results will be catastrophic. This is a climate emergency.'
l To findout more about the group contact...
Comments
To leave a comment you need to create an account. |
All comments 0