'Share This Space' with cyclists reminder during Bike Week
Wednesday 8th June 2022 11:18 am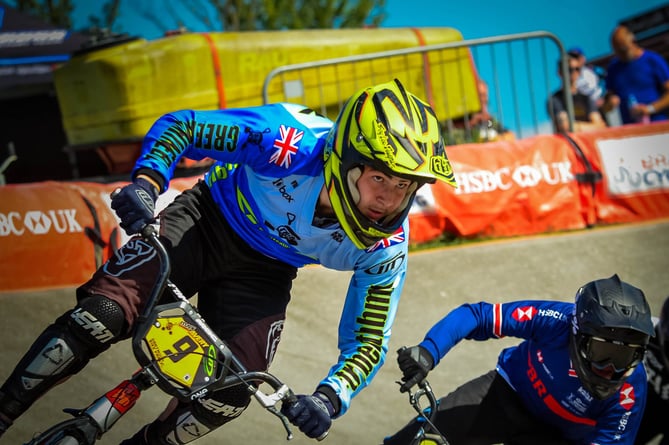 INSPIRING comeback for BMX athlete and competitor, Max Avery, who fought his way to the finishline despite suffering a serious setback right out of the gate. As the gates dropped and the 22 riders atop the National Cycling Centre's eight-metre starting hill hurtled down towards the first of the tracks many jumps, 15-year-old Max Avery and another rider came barrelling into one another causing both riders to hit the dirt. Undetered and laser-focused, Max instinctively picked up his bike, set his sights on the finish line and set about getting back in the race. Not satisfied with merely finishing the race, Max's skill and determination awarded him 12th place – a seriously impressive feat for the Newton Abbot local given how vital a sound start is in the world of BMX track racing. Riding a BMX bike for the first time at just four years old, Max made his debut into the competitive scene when he was seven and the rest, as they say, is history. Today, Max is ranked fourth nationally in the Male 16s catergory, ride
()
Subscribe newsletter
Subscribe to our email and get updates right in your inbox.
The importance of Devon's 'Share this Space' campaign is being highlighted as part of Bike Week which ran until June 12.
Devon County Council wants to encourage more people to cycle more often, and its Share this Space campaign aims to promote patience on the county's roads, paths and multi-use trails.
People are being reminded of the following advice:
l Cyclists are asked to please pass walkers slowly and carefully, letting people know you're there and giving them space;
l Dog walkers on shared paths are asked to keep dogs under close control on a short lead;
l Pedestrians are advised to check for traffic if they are crossing the road;
l Drivers and motorcyclists are urged to be considerate and to give vulnerable road users such as cyclists and horse-riders extra space (two metres if possible) when passing them. Also be aware of the possibility of pedestrians stepping into the road.
Councillor Stuart Hughes, Devon County Council Cabinet Member for Highway Management, said: 'Our Share this Space campaign is all about encouraging people to be considerate of each other – whether that's on Devon's road network, local paths or multi-use trails.
'Bike Week always provides a chance to remind people about how cycling can benefit your health and the environment, as well as save you money – so hopefully more people will take this opportunity to either take up cycling or rediscover their bikes.
'Motorists, cyclists, pedestrians and horseriders can all do their bit to look out for each other and make sure we all travel as safely as possible.'
The County Council's Share this Space webpage has free films, animations and images that are free to use and share.
Those who want to show their support for the campaign can order the County Council's 'Give Cyclists Space' car window stickers which are available for free.
Email [email protected] providing your name and postal address and enter Give Cyclists Space in the Subject line. Allow 7-14 days for delivery.
For more information go to the Travel Devon webpages.
Comments
To leave a comment you need to create an account. |
All comments 0