DEVON Ploughing Association's Champion Ploughman for 2023 is Donald Tonkin of Cheriton Fitzpaine - for the 6th year in  row.
The Chairman of the Devon Ploughing Association, Desmond Jenkin, announced the results at the Association's Presentation Ceremony, held after a well-attended lunch at the Waie Inn, Zeal Monachorum on Sunday, November 5.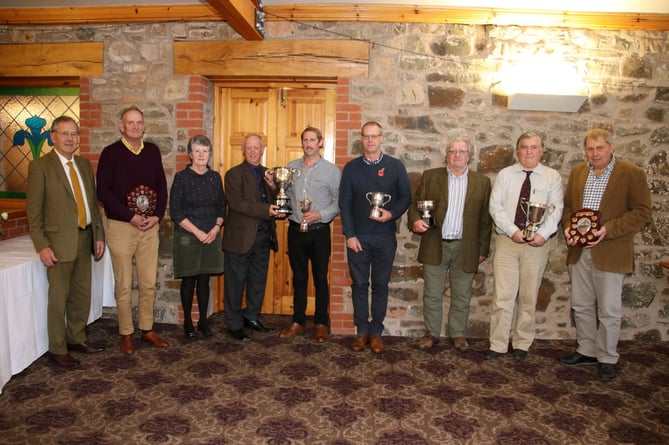 Donald Tonkin, fifth left, receiving the Devon County ploughing champion trophy from, fourth left, President Raymond Govier, pictured with other trophy winners with chairman Desmond Jenkin left, and third left, secretary, Sarah Hammett. AQ 2750
(Alan Quick, Crediton Courier)
Mr Jenkin congratulated all those ploughmen who had taken part in the British National Ploughing Championships held at Bishops Lydeard near Taunton in October.
He said that Devon had 16 competitors at the event, which was a great turnout for the county.
In the World-Style Conventional class he explained that Bill Tonkin (Donald's father) was placed fifth in the plough-off, with Donald placed fourth in the plough-off, Paul Studley also taking part.
In the World-Style Reversible, Sam Reed was placed 10th and Paul Pincombe was eighth in the plough-off.
In the Trailed Vintage, Peter Stone and Martyn Smale were placed seventh and eighth.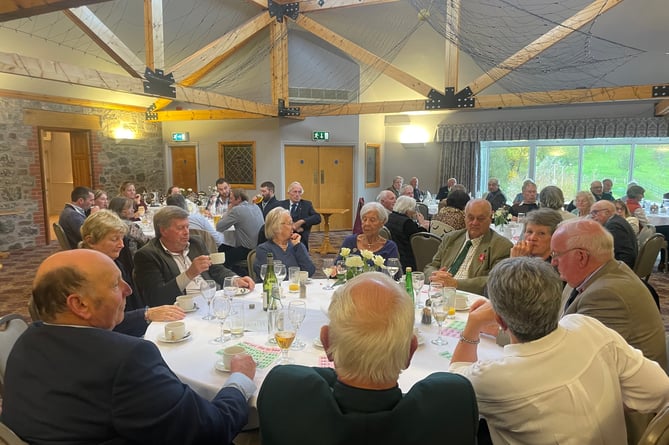 Some of those who attended the Ploughing Association dinner. AQ 9885
(Alan Quick, Crediton Courier)
Eddie Vigers took part in the Ferguson class and Graham Soper was placed third, his son Russell, also taking part.
In the Ford and Fordson class Raymond Govier was placed fourth and Ross Hext was placed fifth.
Will Voisey and Ken Gibbs took part in the David Brown class.
In the Horses class, David Kerswell was placed first and second with Daniel Kerswell placed third.
Mr Jenkin also praised the five judges who took part, Graham Beer, David Bowyer, Arthur Haywood, John Kerslake and Will Williams.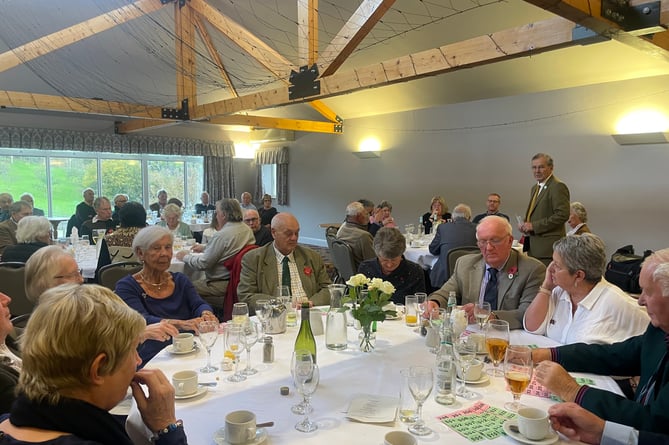 Chairman Desmond Jenkin speaking to those at the Ploughing Association dinner. AQ 9886
(Alan Quick, Crediton Courier)
Ploughmen competing in Devon gained points by taking part in the six qualifying ploughing matches held across the county.
Semi Digger - 1 Donald Tonkin - Cheriton Fitzpaine.
Vintage Trailed - 1 Peter Stone, Kingsbridge, 2 Martyn Smale, Crediton, 3 Graham Soper, Totnes.
Vintage hydraulic - 1 Will Voisey, Ottery St Mary, 2 Raymond Govier, Crediton.
Classic - 1 Norman Bulled, Cheriton Fitzpaine, 2 Colin Sanders, Exeter, 3 Michael Phillips, Tiverton, 4 Michael Hayball, Cullompton.
Ferguson T20 - 1 Tim Webb, North Tawton, 2 Eddie Vigers, Crediton.
Mutifurrow - 1 Alan Brazier, Poltimore, 2 Peter Stevens, Cullompton, 3 Richard Broom, Bradninch.
Reversible - 1 Paul Pincombe, 2 Michael Pincombe.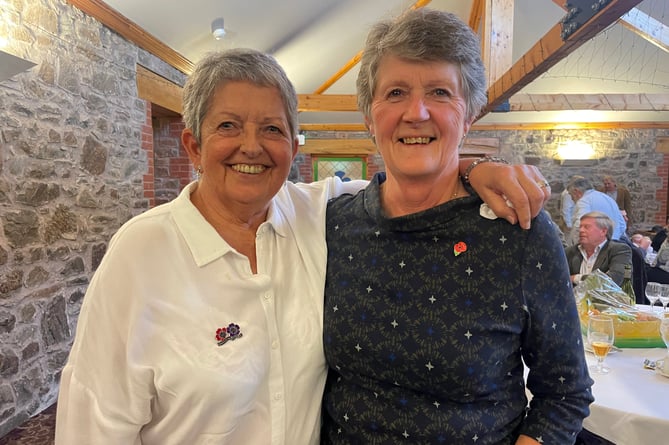 Ollie Allen and Association secretary Sarah Hammett, at the dinner. AQ 9908
(Alan Quick, Crediton Courier)
Trophies were presented by Association president Raymond Govier.
Donald said that he was proud to have won the Overall Champion Ploughman title for the sixth year running.
He explained that his father Bill, also from Cheriton Fitzpaine had previously won the title on four occasions.
During a previous year, Donald said that his grandfather had also won the title and it had long been Donald's ambition to have his name there too.