Challenges, changes and breaking new ground
Thursday 19th May 2022 11:00 am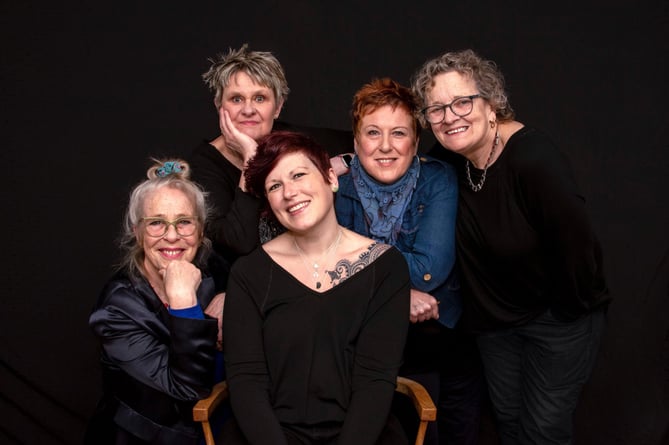 Flying high - Chris While, Julie Matthews, Helen Watson, Melanie Harrold and Miranda Sykes of Daphne's Flight
(Bryan Ledgard )
Subscribe newsletter
Subscribe to our email and get updates right in your inbox.
.ONE of the most exciting vocal groups to emerge on the acoustic music scene will be appearing in Ashburton this week.
Daphne's Flight is a collaboration between five highly regarded female vocalists, instrumentalists, and songwriters in the British folk and root music scene: Christine Collister, Melanie Harrold, Julie Matthews, Helen Watson and Chris While.
The collaboration resulted in a well-reviewed album and a sell-out tour during the mid-1990s.
The project helped to cement relationships between the members, raised their individual profiles nationally and internationally and has been seen as marking a turning point in the role of women within the English folk movement.
Twenty years after the initial collaboration, Daphne's Flight returned with a new studio album and a live release, and toured extensively.
When they completed their last tour in 2018 and after a handful of euphoric festival performances in 2019 which garnered them an army of new followers, the stage was set for a 25th anniversary tour in 2020 with a brand new album to launch and celebrate.
Then the entire world turned upside down.
What followed were two frustrating years of postponed dates and a career sitting idle, unable to capitalise on the momentum that had been building since their 2017 reunion tour.
Now the heavy cloud of the pandemic has lifted and the stage is set for a euphoric return to touring for Daphne's Flight.
Sadly, Christine Collister has had to pull out of the band for personal reasons, so Chris, Helen, Julie and Mel asked Miranda Sykes, of Show of Hands, to join the band.
The result in rehearsals couldn't be better, the blend of personalities and musical synergy has given new energy and hope to Daphne's and so a new chapter begins.
Five individually successful solo artists in their own rights, together they create a unique and unparalleled force, empowering women of all ages, producing music that is relatable, moving and uplifting and creating a chemistry on stage that is both joyful and contagious.
The group will be performing at St Andrew's Church in Ashburton on Tuesday, May 24 at 7.30pm.
For ticket details see the website www.daphnesflight.com.