Shaldon Villa manager riding high after Lionesses win
Friday 5th August 2022 1:30 pm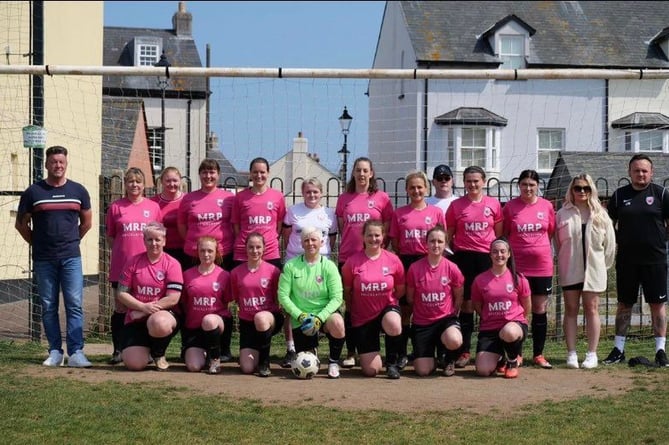 (Shaldon Villa Ladies FC )
Subscribe newsletter
Subscribe to our email and get updates right in your inbox.
STILL riding on the high of watching the Lionesses in person, Shaldon Villa Ladies FC founder and player Yasmyn Paz reflected on the game-changing day for women's football.
Yasmyn said: 'It was unbelievable, I couldn't believe the turnout - when I walked into Wembley I just kept thinking what a day it was for women's football.
After moving back from Greece to her family in Teignmouth in 2015, Yasmyn was disappointed at the lack of Women's teams in the area. After putting out a post on Facebook, Yasmyn realised that she was not alone in her desire to get out on the pitch. However, working to form a strong team would take time and effort.
'When we first started, we lost every game 20-nil, at least. But we continued to train really hard and the next season we won the league.
Shaldon Villa's team are competitive but remains inclusive, which has helped them achieve such impressive results.
'We've done really well, and it's for all ages, a lot of us are mums as well so the team is very family orientated, it's a great opportunity for people of different backgrounds to mix and socialise and work towards something.
Yasmyn also runs a weekly session for girls aged 5-11, called Shaldon Wildcats. Here, the aim is to introduce young girls to football, learn new skills and give them the chance to play with other girls.
In both the Wildcats and the Ladies team, the Lionesses' win inspired a surge in interest.
'Now, more women who don't have the confidence or who think that they're too old or inexperienced to play, they might feel like they have the confidence to join a team and play at any ability or age.
Shaldon Villa hopes to turn this surging demand into a variety of new teams over the coming years, including filling the gap between the 5-11s and the 16+ team.
'There need to be teams that all ages, abilities and ethnicities can join - it's about playing something that you love.'
Yasmyn hopes that the victory will also see an increase in funding for women's football.
'We've done well with sponsorship, as some really great building companies have sponsored us throughout.
'But as a sport, I hope that the victory will give female footballers the recognition that they deserve, and hopefully make pay more equal so women can have an easier time making a career in the sport.
There also remains an issue with a lack of volunteers to run the club, and there are hopes that the Euros will also inspire parents not just to send their kids to training, but to help out themselves as well.
Getting women into coaching positions is also high on Shaldon's agenda, to be both role models and teachers.
For anyone thinking of getting involved, Yasmyn's advice is simple: 'I'd just say give it a go, you won't regret it. There are loads of local teams out there which is brilliant, so just come and have a go and see how you like it.'
To join Shaldon LFC, or for more information, call +44 7650 74499.
Comments
To leave a comment you need to create an account. |
All comments 0