LOCAL women's charity Trevi, is once again calling all courageous and strong women to take up its 10K Warrior Women Walk on Sunday, October 15.
Trevi is once again urging local women to come together and step out to support those affected by domestic violence and abuse and show everyone that they can take on the world! 
Trevi launched its very first Warrior Women Walk last year, and to much delight, more than 250 awesome women joined together to walk 10k and raise more than £20k for the charity.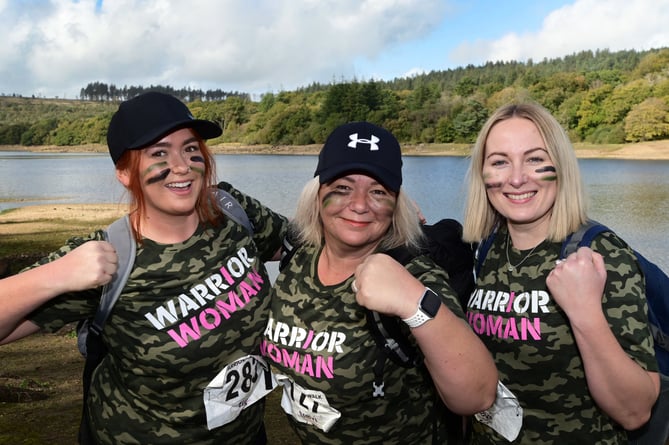 The charity hopes to encourage 500 women to take part this year and double its fundraising target.
Hayley Dann, Trevi Fundraising and Marketing Lead, said: "We were overwhelmed with the support we had for the walk last year. We can't thank those enough who took part, donated, and supported our walkers on our very first event. 
"Seeing so many women joining the fun with their friends and having such an amazing time was awesome and very emotional! We had so many lovely comments about the event, so we are so excited to be able to bring it back this year.
"We celebrate our 30th anniversary this year, so now is the perfect time to come and join us in our celebrations."
The Warrior Women Walk invites women to tackle the 10k walk, starting and finishing at Burrator Reservoir Discovery Centre, and raise vital support for women affected by trauma and abuse.
The Warrior Women Walk takes in some of Devon's most stunning scenery. The 10k route will walk you around the beautiful Burrator reservoir and rugged moorland of Sheepstor with a slight variation on last year incorporating more of the stunning Leat!
This year's Warrior Women Walk features a staggered start to accommodate the increase in walkers and sees the return of some optional fun activities to challenge you on your way around!
The walk allows women to connect with friends and other amazing women. Trevi hope the 10k challenge will bring together women who have been affected by trauma and abuse, whether personally or a loved one; women who want to see a future without violence against women and girls and women looking to have fun with their girlfriends and raise money for charity; Trevi invites you to take on their warrior challenge!
Last year 1.7 million women were victims of domestic abuse in the UK, with a domestic abuse-related call being made to the police every 30 seconds.
Whilst domestic abuse-related crimes in Plymouth decreased in 2021/22 by 1.5 per cent, domestic abuse-related non-crime incidents increased by 9.5 per cent.
Domestic violence accounts for 31.5 per cent of all crime in Plymouth compared to the national figure of 17 per cent.
Trevi supports more than 1,000 women who have been affected by domestic violence or abuse annually.
Some 80 per cent of the women they support through their Jasmine Mother's Recovery residential rehab centre and 67 per cent of women accessing their Sunflower Women's Centre have or are experiencing domestic abuse.
Trevi hopes that the Warrior Women Walk will be as successful as it was in 2022. As an incentive, it is offering an early bird discount to all women walkers – use code WW20.
Women can walk as individuals, in teams, business groups and organisations. All are encouraged to get involved and register for an official place in the Warrior Women Walk 2023.