Trio of parks a symbol of excellence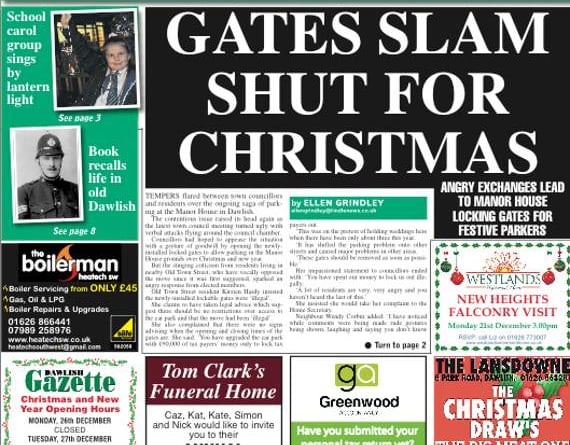 Subscribe newsletter
Subscribe to our email and get updates right in your inbox.
THREE Teignbridge parks have won accolades for being among the best green spaces in the country.
Newton Abbot's Courtenay Park and Decoy Country Park and The Den in Teignmouth have been officially recognised to receive a prestigious Green Flag award.
The trio of district council-owned recreation areas are among 1,686 parks and green spaces to achieve the award.
Now in their 20th year, the awards recognise and reward the best quality parks and green spaces and the Green Flag is a symbol to the public that the space boasts the highest standards, is beautifully maintained and has excellent facilities.
Decoy has now achieved the standard for 10 consecutive years, The Den for eight years and Courtenay Park for six.
Courtenay Park is home to a sensory garden and bandstand, Decoy Country Park has its watersports and wet-play areas, and The Den offers an award-winning children's play area and skate park.
The Green Flag Award is one of a number of accreditation schemes that recognises excellence in the management of our public space.
Keep Britain Tidy also manages the Blue Flag Award for well-maintained and clean beaches, which Dawlish Warren is flying for the 18th year running.
Cllr George Gribble, Teignbridge Council's deputy leader and executive spokesman for recreation and leisure said: 'We are absolutely delighted that our parks and green spaces have retained their Green Flag award from Keep Britain Tidy and hope it will encourage more people to visit these wonderful places.
'These awards recognise and highlight that people across Teignbridge are benefiting from a green space of the highest quality.
'The flags flying this year are testament to the time and commitment shown by our officers and staff in maintaining them to the highest possible standard and the pride taken in their work.'
Cllr Sylvia Russell, ward member for Teignmouth East said: 'Once again thanks are due to our dedicated resorts staff who keep The Den pristine clean throughout the year, particularly as we come to the main holiday weeks when our green spaces are greatly appreciated by people having the opportunity to lounge around, play a game, keep fit or just enjoy a quiet read.'
Cllr Judy Grainger, ward member for Bushell, said: 'I'm delighted, once again, that Teignbridge Council shows its commitment to Newton Abbot, maintaining a high standard in those things which are both important and under its control.
'As the town grows I want to make sure we keep these green spaces valued and used by all of us.'
Cllr Mike Pilkington, ward member for College said: 'Attracting visitors to Newton Abbot and Teignbridge will become more and more important as we head into the future, providing jobs for our young people and generating wealth for our area.
'Decoy Country Park is an integral part of the effort to persuade people to visit us.
'Maintaining high standards is such an important part of success and all involved with Decoy are obviously well aware of this.
'A huge round of applause for all involved.'
Sarah Holgate, Teignbridge Council's resorts manager said: 'It's great news that we have again been awarded the Green Flag.
'It recognises what a lovely family friendly space we have on The Den.
'We look forward to welcoming visitors and sharing this fantastic green space that's right by the sea.'