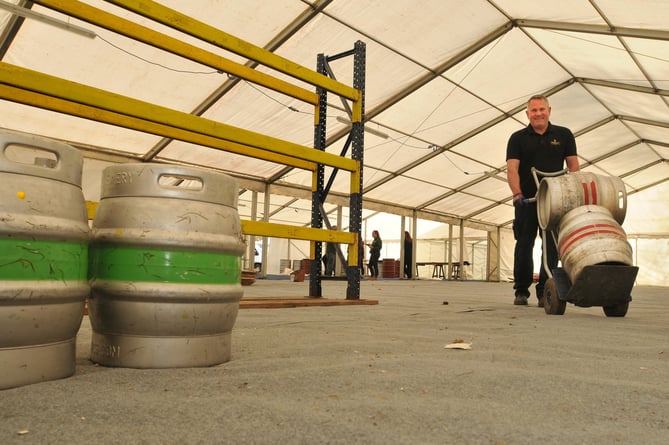 MDA190422A_SP001 Photo: Steve Pope. Newton Abbot. Preparing for MaltingsFest. The thirst of the many. Dreyman Alan WIlliams from Dartmoor Brewery brings in the first of the barrels filled with the choicest of brews ahead of this year's MaltingsFest beer festival at Tuckers Maltings
Subscribe newsletter
Subscribe to our email and get updates right in your inbox.
ROLL out the barrel - or in this case roll in the barrels
Drayman Alan Williams from Dartmoor Brewery wheels in the first of at this year's choicest brews that will be available for sampling at Devon's biggest beer festival.
The MaltingsFest ale festival which opens in Newton Abbot's Osborne Park today (Thursday), is making a welcome return after a two year Covid-enforced break.
Organised by the Society of Independent Brewers (SIBA) the festival will feature over 300 ales along side a selection of locally produced ciders and spirits.
'We decided instead to come back bigger and better this year and we now have keg beers from our members, ciders and spirits produced or marketed by them alongside the huge range of cask ale that has been the backbone of the festival since its inception,' said Paul Arrowsmith, the South West SIBA regional chairman.
'We wanted to retain the festival's heritage in Tuckers Maltings but have to move on, so have adopted the name MaltingsFest to go forwards.'
Judging of the ales takes place this morning, an award from this festival is regarded as prestigious, and MaltingsFest opens to the public from 5pm and concludes on Saturday night.
For full details see the website www.maltingsfest.co.uk.