THAT WAS THE YEAR THAT WAS: A LOOK BACK AT 2021. JULY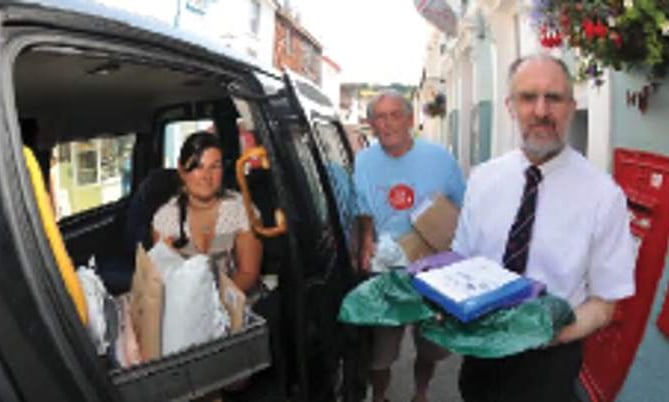 Ashleigh 2 with Postmaster Stuart Rogers, Cllr Sarah Parker-Khan and volunteer driver Charlie Dennis
Subscribe newsletter
Subscribe to our email and get updates right in your inbox.
First class postal work and local barrow hero
NHS midwife Maggie Traynor was devastated to find teenage yobs had stolen and then trashed her moped from the car park at the hospital where she just finished a 12-hour night shift. Hard-working Maggie from Ipplepen, was covering an extra shift for a colleague at Torbay Hospital.
Two kindly readers offered to help her with the repairs but Maggie politely refused their offer of help. Thieves struck again at the hospital when poor Maggie had her replacement bike stolen again as we will report later in the year.
CRIMINALS in Newton Abbot will have suffered a major blow after it was announced that the town would receive a major upgrade to its CCTV systems.
The overhaul of the town's camera system is thanks to a funding boost to help cut crime this summer.
The funding is part of an overall pot of £350,000 from the Office of the Police and Crime Commissioner for Devon, Cornwall and the Isles of Scilly.
BARCLAYS Bank announced it would be closing its branch in Newton Abbot. The bank's Michael Watts told town councillors: 'the world has changed' and that 'we have a transformational journey to go on'. He pointed out that 785 per cent of the Courtenay Street branch's customers now used online or phone banking.
After a debate Town Mayor Mike Joyce told him: 'I think you've got the gist of it, we're not happy.'
More on this later in the year.
WHEN Covid illness and people isolating began to make the going get tough for the post office service, the tough got going. A first class effort from Ashburton saw Charlie Dennis, volunteer driver of Ashleigh 2, Postmaster Stuart Rogers, and Cllr Sarah Parker-Khan featured on our front page making sure the post still got through.
'IT'S our hospital and we own it Sajid' – so said campaigners who took part in a day of action to save Teignmouth Hospital from the threat of closure. Hands Off Teignmouth Hospital (HOTH) were joining a countywide pressure group telling the Government Save Our Hospital Services.
HOTH spokesperson Geralyn Arthurs said the aim was to make the new Health Secretary Sajid Javid aware of their campaign to keep the hospital in town.
IF ever there was a local hero, then it must be Michael Butterfield. Michael, 52, lives in Dawlish Warren and has been quite literally cleaning up there and down the coast in Dawlish. He's a familiar sight to locals who see him with his barrow round and about the two resorts. He makes a living collecting unwanted items from houses and amazingly pushing his barrow to the Marsh Barton recycling centre in Exeter – a near 24-mile round trip.
It seems no item is too big to push there. Michael explained: 'I've taken fridges, dishwashers and washing machines, It doesn't take me long to get there and back!' He's a busy man, making the trip four times a week, and starts his working day at 4am throughout the year, often not finishing until 8pm.
CONCERNED families in Teignmouth came forward with fears of being 'pushed out' of town by landlords who are turning their rental accommodation into holiday rentals and Air-Bnbs.
Campaigning county Councillor David Cox took up the cause of one resident who has been priced out of town can trace their family back over centuries to Teignmouth fisherman. Lifelong tenants in the area who have chosen to remain anonymous fear they will now be forced to leave their hometowns as rental properties decrease and prices increase as a result.