Teignmouth ladies on high after Lionesses game-changing match
Wednesday 3rd August 2022 4:00 pm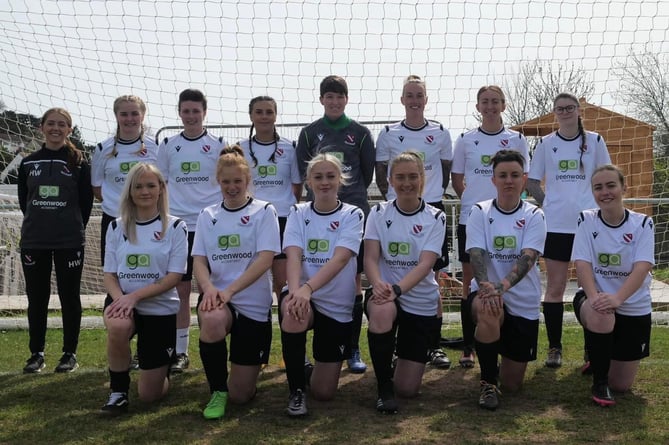 Subscribe newsletter
Subscribe to our email and get updates right in your inbox.
HOLLY Wines manages the Teignmouth AFC Ladies team, who kicked off to an impressive first start last season, managing to make it to a cup final and finishing mid-table. The team varies in age, from teenagers to the 'retired and returned'.
Holly has been playing football since she was six years old, but often found that outside of the club she was not given the acknowledgement that she deserved. However, she hopes this will change following the Lionesses' victory last Sunday.
Holly said: 'This win is going to be massive, even for little clubs like us, there's finally going to be that recognition that women deserve.
'If only we had this recognition of women's football ten years ago, who knows what girls would be doing now. The Lionesses have proved to us that girls are good enough, and I hope that will end the stigma around women's football.
Outside of the club Holly and her team saw the impact of the Euros first hand.
'I went to watch the Northern Island game; when I walked into the stadium, I thought there was music playing, but actually, it was just the atmosphere.
'Everyone was together, everyone was singing, it was such a healthy atmosphere, you couldn't even hear the tannoy it was so loud!
'Football has always been more than a game, it keeps people out of trouble, it's like your serotonin, it keeps you afloat and gives you belonging. That's what the girls did on Sunday.
Teignmouth also saw a spike in interest after last Sunday, finding that women were keen to sign up not just to play, but to assist in management and training.
For those interested in getting involved, Holly says it's never too late.
'It's never too late to get into any sport, as long as you put your mind to it, having just a little bit of passion can go a long way - mention it to friends, you'll be shocked to how many people have had an interest or know people that have.
'Go on platforms and look at local areas and see what teams are around. Some of our most beneficial players are the ones that are either new and fearless or returned and have developed a fire in their bellies.
Looking forward, Teignmouth LFC is hoping to establish themselves as a top-table team this coming season.
'We have more than enough capabilities to finish towards the top of the table - we're also entering the FA Cup, we'll aim for some cup finals and hopefully a tour at the end of the season.'
To get involved, find Teignmouth AFC on Facebook or call Holly on +44 7717 678363.
Comments
To leave a comment you need to create an account. |
All comments 0