Teignbridge Wind and solar proposals slammed by CPRE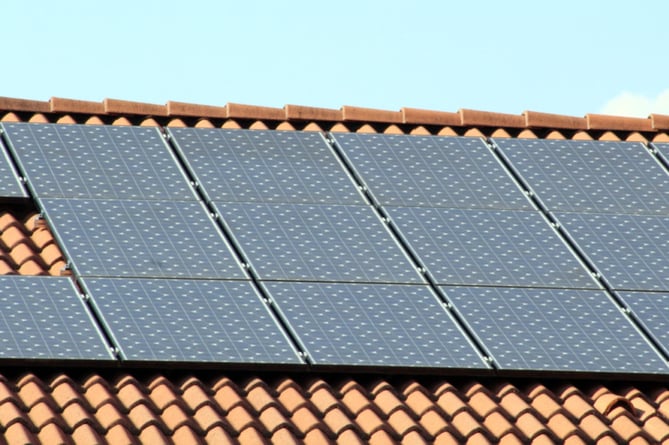 Solar panels on house roof (Image: free to use from pxhere.com) 2021
Subscribe newsletter
Subscribe to our email and get updates right in your inbox.
THE countryside charity, Devon CPRE, has criticised renewable energy proposals put forward by Teignbridge District Council.
The local branch of the CPRE says the Low Carbon report on which they are based is 'very poor' and falsely assumes that wind and solar power do not result in greenhouse gas emissions.
A spokesperson forthe CPRE said: 'Teignbridge is the only Local Planning Authority (LPA) in Devon seeking to identify sites for wind energy and solar PV development as part of a wide-ranging consultation to update its Local Plan.
'The review comes at a time when energy bills are soaring and those on low incomes are having to choose whether to heat or eat - a situation brought about in part by the green levies people pay on their energy bills.'
Devon CPRE director Penny Mills said: 'We pointed out some years ago that the government's levies on renewable energy would result in spiralling costs for the consumer. And look where we are now!
'Teignbridge gives no explanation for why it's going down this route, seeking to allocate sites for wind and solar power within its Local Plan.
'Devon's other LPAs are aware of the historical evidence concerning wind turbine and wind farm proposals, the huge local opposition they cause and the divisiveness they create within communities.
'We've been contacted by a number of people in the district who are extremely concerned about where this will lead - as are we.
'We are not alone in this; Dartmoor National Park Authority has also raised its fears about the prospect of a band of giant wind turbines on the Teignbridge edge of the moor, one of the county's protected landscapes.'
Devon CPRE's energy spokesman Dr Phil Bratby added: 'The Low Carbon report on which these proposals are based does not contain sufficient evidence - it appears to have been produced by academics with no experience of the reality of the electricity industry, no knowledge of how the electricity supply system works and what the impacts of excessive wind and solar power would be.
'The problems caused by excess intermittent renewable energy sources are becoming apparent across the world, leading the EU to propose that nuclear and natural gas are redefined as sustainable.
'This flawed document contains no discussion of the downside of more wind and solar power in Teignbridge. Why is this?'
'Furthermore, the consultation makes the false assumption that areas suitable for wind energy developments must be identified in a Local Plan.
'This is wrong; they can also be identified in a Neighbourhood Plan and must have the backing of the local community.'
Last year, Devon CPRE launched a campaign against large solar farms on agricultural land. A video produced by the charity and fronted by actor John Nettles outlines why industrial-scale solar PV developments are not a good use of Devon's farmland and are detrimental to the special character of its landscapes.
The Devon CPRE has submitted a six-page response to the consultation district council's proposals explaining its views.
Comments
To leave a comment you need to create an account. |
All comments 0