Road closure hits cafe for fourth time
Sunday 22nd May 2022 4:00 pm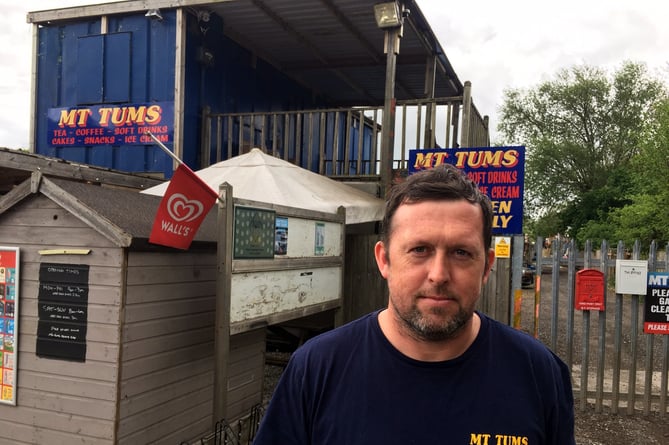 MT Tums owner Daniel O'Connell.
Subscribe newsletter
Subscribe to our email and get updates right in your inbox.
A POPULAR cafe and takeaway has seen its takings drop this week after a road closure discouraged much of its custom – and its fed up owner says it's the fourth year running this has happened.
MT Tums sits alongside the Exeter Road in Teigngrace, and after a car damaged a section of a bridge on the road, Devon Highways closed the road on Monday for week-long repairs.
MT Tums owner Daniel O'Connell says this has led to a drop in takings of some 70 per cent, and he believes the authority aren't listening to his suggestion of revising the layout of the road to prevent further incidents.
Having survived the huge problems posed by Covid restrictions, the landmark cafe, which employs four people, remains open 364 days a year serving passing motorists, cyclists and pedestrians.
Daniel said: 'We rely on passing motor trade and our customers understandably won't want to take a long detour to get to us. We also deliver takeaways, and our drivers have to take the long way round.'
'They didn't need to close the road fully for this repair. I suggested installing temporary lights but they haven't listened.
'The long-term problem though, is you have a long Grade One listed bridge on a narrow section of road with the National Speed Limit. You have vehicles up to 25 tonnes using the road and it pinches in places along the old bridge.
'It's a busy road – I've undertaken my own traffic surveys and it's never been fewer than 1,000 vehicles an hour using the road. It's a rat run for some. Every so often the bridge takes a hit and the council comes along, closes the road and fixes it. This is our money they're spending each time which makes no sense.
'If this section was made 30mph it wouldn't keep happening. The council needs to be proactive, not reactive.'
Daniel took to social media to complain: 'Our trade takes a massive hit when the road is closed. 
'Yes the lovely people at Devon County Council have to close the old bridge again to repair damage, but this is the fourth time since we have been here the road has to be closed for repairs.'
'Every time we ask the question how much is being spent? No answer. 
'Why is there no weight limit or width limit? No answer.
'How can this bridge be a 60mph road? No answer.
'All these issues would reduce the amount of damage and disruption.
A Devon County Council spokesman told the Mid-Devon Advertiser: 'These repairs are essential as the bridge was damaged by a vehicle at the end of February, knocking a length of the downstream parapet into the field below.
'It has not been possible to carry out work sooner as the structure is listed and permission has to be granted to carry out repairs.
'Every effort has also been made to find a suitable date which doesn't conflict with closures on other roads in the area.
'We hope to recover the costs of the repairs from the insurance company of the driver who caused the damage.'
They pointed out the last time the causeway was closed for structural repairs was August 2020.
Speed and weight limits have previously been investigated on the causeway but were not deemed appropriate or enforceable.
'In order for a new speed limit to be put in place on a section of road it must fulfil a number of requirements set by Devon County Council as the highway authority and Devon & Cornwall Police who will enforce the limit.
'Requirements include, but are not limited to, location (rural or urban), length of proposed limit, distance from other existing speed limit boundaries, the number and spacing of building frontages and junctions and the number and types of vehicle using the road.'