Newton's residents have their say on how to improve the town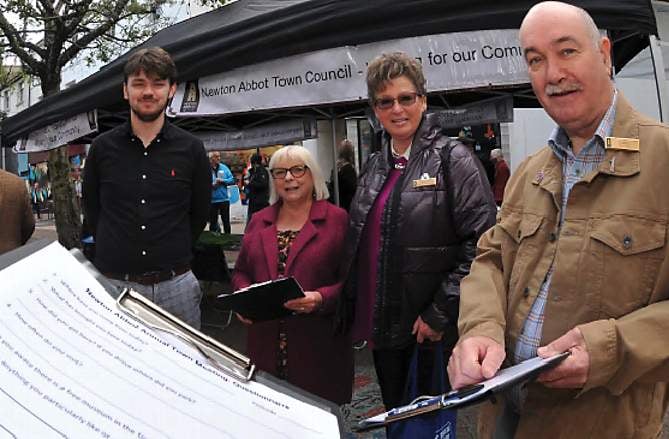 Giving townsfolk the chance to have their say at Newton Abbot Annual Town meeting in Courtenay Street are, from left, Cllr Alex Hall, Cllr Lesley Sheffield, Town Development Manager Sally Henley and Cllr Colin Parker.
Subscribe newsletter
Subscribe to our email and get updates right in your inbox.
A SEARCH for community projects to improve the quality of life in Newton Abbot took to the streets on Saturday.
Members of Newton Abbot Town Council set up stall in Courtenay Street and invited passers by to tell them what they thought about the place.
No topic was off-limits and concerns included traffic congestion, new housing and the Alexandra Cinema.
Attracting praise however was the £2.2 million Newton's Place museum and community rooms project which the town council delivered in response to public demand and without adding a penny to the precept.
People were asked if they had ideas for other community projects the authority could help realise, such as the recent construction of a new fence at Vicary's Field allotments where the council paid for materials and volunteers carried out the work.
Some people called for more tree planting and others to have children's play equipment in the town centre.
Mayor Cllr Mike Joyce said: 'It was great to talk with so many people and to hear what they think.
'The event was actually the Annual Town Meeting which we hold in public rather than tucked away in a committee room. We had to explain that Devon County Council is responsible for our roads and it's Teignbridge which has the final say on planning matters.
'The town council is taking on more responsibilities though as other authorities reign back their activities because of cost-cutting.
'Good examples are the investment we've made in street-cleaning and weed-removal equipment and taking on public toilets that would otherwise be closed.'
Emily Farrell, manager of the Newton Abbot Community Interest Company, helped arrange the event.
'Parks, open spaces and tree-planting are topics we've talked a lot about,' she said.
'People are generally quite content with the town but have ideas about small scale projects to improve it.
'We'll continue to ask people what they think for the rest of the year and use the information to help update the Community Plan in 2022.'
Comments can be made in person at Newton's Place, via the Your Community We're Listening Facebook page or by emailing yo[email protected].