Phyllis scores her century
Thursday 5th March 2009 12:00 am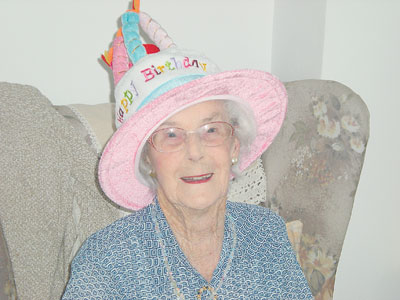 100 YEARS ON: Phyllis Stabb in party mood, celebrating her century.
()
Subscribe newsletter
Subscribe to our email and get updates right in your inbox.
A GRANDSON travelled all the way from China to Teignmouth to attend his gran's 100th birthday party.
Stephen Edkins, 50, is a teacher in Shanghai and said there was no way he could miss such an important milestone.
It was a surprise gathering of family and friends from all over the country for Phyllis Stabb, who lives with her daughter and son-in-law, Dawn and David Edkins, in Hazel Close.
Although the champagne corks were popping, Phyllis did not touch a drop – she has never drunk in her life.
'She likes lots of water, and Polo mints,' said Dawn.
'Mum rarely troubles the doctor, and believes in all the old fashioned remedies and Polo mints, which she reckons are good for all sorts of ailments!
'She is always smiling and laughing, and has never really grown up!'
Phyllis received 72 cards, and a cake was specially baked by a niece who travelled from London.
Born in Bittaford in 1909, she had a happy childhood, playing on the moors, and attending Ugborough School. On her 21st birthday, she was given a pet monkey which sat on the handlebars of her bike as they rode around the village.
On Boxing Day, 1933, she married William Stabb, a local lad, who was in the Royal Navy. Two years later Dawn, their only daughter, was born.
William's naval service took them all over the country, before they retired to Cornwall, and then returned to Devon in 1986.
The couple settled in Kingsbridge, where Phyllis joined the WI and learned to swim at the age of 90.
The move to Teignmouth means she sees much more of her three grandchildren and four great-grandchildren.
'She had a brilliant birthday, and received masses of flowers, chocolates and presents, and, of course, the all important card from the Queen,' added Dawn.