Oh brother! Now it's Harry's turn in the limelight
Tuesday 10th May 2022 3:58 pm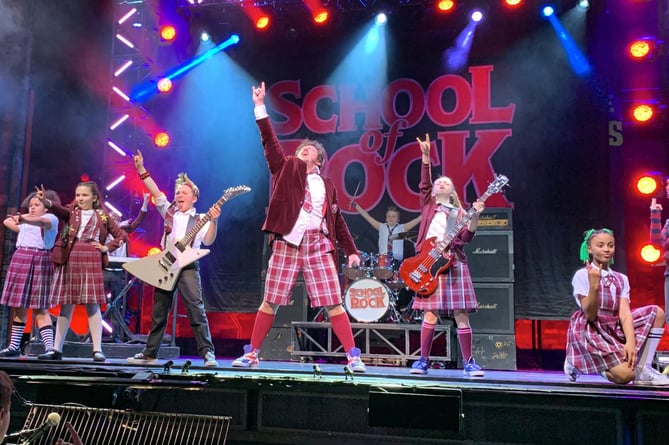 Subscribe newsletter
Subscribe to our email and get updates right in your inbox.
A COUPLE of years ago one young musician was strutting his stuff across the London stage, and now his kid brother has followed in his footsteps.
Harry Churchill age 10, from Bovey Tracey has just landed a role in the stage version of Andrew Lloyd Webber's School of Rock, and it's the same part his older brother Charlie played.
Harry, who started playing the guitar aged four, said: 'Music is a big thing in our house. I have the best guitar teacher Mike Gosgrave from Bovey Tracey and I just love playing guitar, singing and listening to music. During lockdown I started to post videos of my guitar progress on my YouTube Channel "Harry's Guitar Time" and now have nearly two million views.' 
The young guitar hero auditioned for the part of Zack at London's Palladium Theatre,, and is now playing the role of Zack – shared with two other youngsters – in a national tour of the UK and Ireland. Currently he's nearer home as the musical is being staged at the Theatre Royal, Plymouth, until Saturday.
'I love Plymouth Theatre Royal,' he said. 'I've seen a few shows there including Matilda. Most of the venues I have performed in have been at least four hours away so it means a lot to be performing in Plymouth because my friends and family can easily come and see me.'
He describes touring as 'amazing' and he's made great friends with other cast members.
'We still do school work in the day time with our chaperones and tutors but then get to perform at night - I am loving seeing all the different places.
'There are two band teams on tour at a time (one performing and one on standby in case someone is injured or poorly). A couple of weeks ago in Eastbourne we got to do standby on the beach as it was so close to the theatre - we also played laser tag with the chaperones and backstage crew so it is a lot of fun. Edinburgh is the furthest I have performed from home but I am going to Dublin soon which will be so cool.'
In the show he has to sing and dance as well as play the guitar live. 'I've had a lot to learn but I love it all!'
The show finishes in August after which Harry intends to carry on acting and making music and see where it takes him.
Mum and dad Fay and Craig said: 'We are beyond proud of what Harry and Charlie have achieved – and we have a third son who's just beginning his musical journey!'