Newton's Place 'an absolute triumph'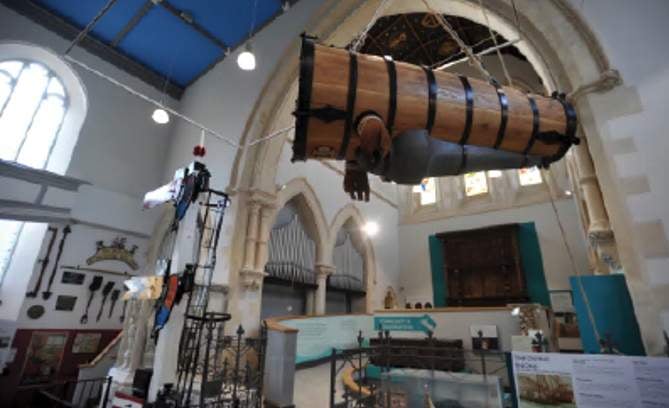 Subscribe newsletter
Subscribe to our email and get updates right in your inbox.
THE first eight months at Newton Abbot's £2.2 million museum and community hub have been hailed 'an absolute triumph'.
Newton's Place, housed in the former St Leonard's Church, Wolborough Street, opened in May as lockdown restrictions eased.
Since then almost 6,000 people have visited and given a Trip Advisor rating of 4.5/5.
School parties have flocked in as have groups representing interests as diverse as the town itself, keeping the community rooms almost fully booked.
Outreach Worker Kate Green has staged scores of heritage and culture-themed sessions at locations across the wider area while coverage in the media has included frequent newspaper and magazine articles plus radio and television slots.
'It's all helping to spread the word that Newton Abbot has a rich history and a thriving culture,' said Mayor Cllr Mike Joyce.
'Thanks to Newton's Place, we're reaching out to people who might never before have thought of Newton Abbot in this way, it's an absolute triumph for both our townsfolk and those living elsewhere in the region.'
The National Lottery Heritage Fund alone provided £950,000.
'The people of Newton Abbot told us they wanted a better, more accessible museum and improved community space,' said Town Clerk Phil Rowe.
'We delivered on that and in the process saved a historic landmark building that was decaying fast.'
Speaking as the museum's scheduled Christmas closure got under way, curator Charlotte Dixon said: 'The old museum would attract about 2,000 people a year and here we are just eight months in and that number has already trebled.
'We knew visitors would be impressed but we've been blown away by just how amazed they are, it's wonderful.'
Kate Green said: 'It's been fantastic engaging with so many people of different ages and from different backgrounds, Newton's Place was always about community and I'm very proud of what's been achieved.
'We all look forward to the coming year and to sharing the Newton Abbot story with even more people.'
The museum will re-open on January 18.