Lidl go back to the drawing board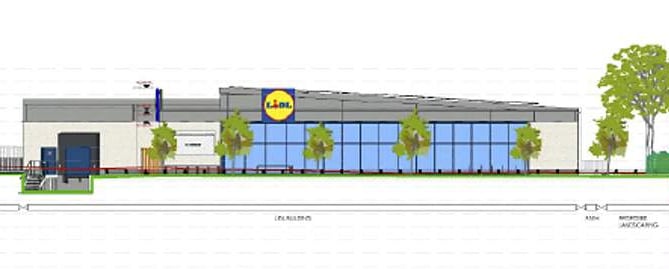 Subscribe newsletter
Subscribe to our email and get updates right in your inbox.
FOLLOWING a slew of complaints, supermarket chain Lidl have withdrawn an application to build a store on the outskirts of Bovey Tracey, and are currently revising the proposal.
The store plans, submitted in October, were for a 0.75ha building and car park in Monks Way next to the new Challabrook housing development.
As soon as plans were revealed, opposition mounted, with nearly 200 objections being submitted to Teignbridge planning department, saying among other things:
the town was already saturated with convenience stores and it would reduce independent traders' income
it would draw in shoppers from surrounding moorland towns such as Moretonhampstead leading to further hardship =it would increase traffic locally
it was not a good image for the gateway to the moor
it did not comply with the original remit for the land which was classed as for business use.
It's fair to say the proposal polarised opinion within the town, with many objecting online, alongside strong vocal support from residents who welcomed a store offering cheap goods, especially as budgets were becoming increasingly tight.
Among the storm of protest Lidl even went so far as to send out questionnaires to all households in Bovey Tracey and Heathfield asking residents for their views.
The plans for the 1,300sq metre shop were passed by the town council, saying many parishioners struggling with bills would benefit from a low cost store.
Despite the large majority of online comments objecting to the plans, the town council planning committee approved the plans saying they had to base their decision on the evidence before them. They did, however, lay down certain provisos: among which were the retailer agreed to make changes to lighting and delivery times.
Unusually, Teignbridge Council's Spacial Planning Department (SPD) submitted their own response on the TDC planning portal, voicing concerns about visual and economic impacts.
Citing evidence gathered for the 2017 Greater Exeter Strategic Plan the SPD said: 'Bovey Tracey town centre attracts a far lower share of the available convenience retail spend than is assumed in the applicant's evidence, which could have implications for businesses in the town.
'If this is the case, there is a strong possibility that whilst the new store might improve choice and competition between the supermarkets, it could also erode the already limited retail spend in the town centre.
'Equally, it is possible that the new larger store 600m from the town centre could increase the overall spend in Bovey Tracey by taking business from other towns for first choice top-up shopping, and there is a limited (or minor beneficial) impact on the town centre.'
The SPD was also concerned about the design of the store, saying: 'Design, layout, planting and landscaping, scale, lighting, materials and public realm have not been assessed in detail.
'However, given the central and road-front location of this proposal in the heart of an important and attractive town that serves as a gateway to Dartmoor, it is critical that the proposals comply with the Local Plan,'
They concluded:'The submission of a robust and more detailed retail impact assessment will be needed to make a confident judgement on whether the proposed development would cause significant harm to the vitality, viability and range of retail provision in Bovey Tracey town centre.'
Lidl has now decided to withdraw the current proposal, thereby avoiding a costly second application and are reviewing the store plans for a future submission.
A Lidl spokesman said: 'We remain committed to bringing a Lidl store to Bovey Tracey, investing in the local area, creating new jobs and improving local shopping choice for everyone.
'Following feedback from Teignbridge District Council, we withdrew our application to enable us to review and update our plans.
'We would like to take this opportunity to thank everyone who took part in our consultation, as we received over 1,500 letters in support of our proposals.
'We now look forward to working closely with the council to bring forward our plans for a new Lidl store and will keep the local community updated as we progress.'