Kept in the dark about illuminated arts event location
Tuesday 26th April 2022 11:00 am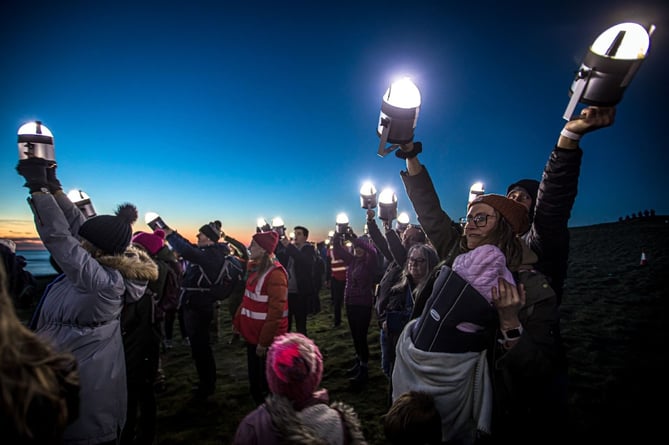 Subscribe newsletter
Subscribe to our email and get updates right in your inbox.
Locals are being invited to take part in an arts event in Dartmoor National Park to be part of a unique and stunning nationwide gathering at dusk – but to find out exactly where, you'll have to register.
On May 21, as part of the UNBOXED: Creativity in the UK festival, outdoor arts company Walk the Plank will work with local people, artists and community groups to create beautifully choreographed and accessible gatherings in Dartmoor and other national parks. Described as 'joyful and participatory artworks' they will be created at dusk by volunteer 'Lumenators' and captured on film for all to see afterwards. 
In total there will be 20 locations for the Green Space Dark Skies event.
To protect the areas, only people who have registered will be taking part and the locations will not be revealed to the general public. All organisers will say is it's easily accessible by road and is in the northern part of the park. The gatherings will not have spectators, but anyone can take part as long as they sign up in advance.
The series of gatherings will celebrate the countryside and how people can explore it as well as encouraging responsibility to take care of it for future generations.
The Dartmoor mass gathering will be accessible and easy to reach and everyone is welcome to register for free to take part. 
Circus arts company Extraordinary Bodies will be working with local community groups and artists to create the artwork for Dartmoor National Park. Artists Jamie Beddard and Billy Alwen are directing the project and Dave Young the Shouting Mute has written and will be performing poetry.
The evening will feature Ally Bryan, a young emerging local composer and Colin Rea, a local choirmaster from Big Noise is creating a choir of at least 150 voices from across the county.. Others include Natasha Player choreography, Plymouth Theatre Royal and Plymouth-based collective of Disabled and non-disabled artists Far Flung Dance Theatre.
People taking part will each be given a smart light developed by graduate engineers at  Siemens, and this enables the digital choreography to be captured on film, while also being sensitive to the night-time environment.
Each short film will incorporate the stories of the people and places featured and will be broadcast online after the event.
The lighting technology uses existing wireless programmable low impact lights, and incorporates something that's never been done before: the ability for these lights to be animated through geo-positioning.
To take part in Green Space Dark Skies register at greenspacedarkskies.uk/events