Greenway gets amber light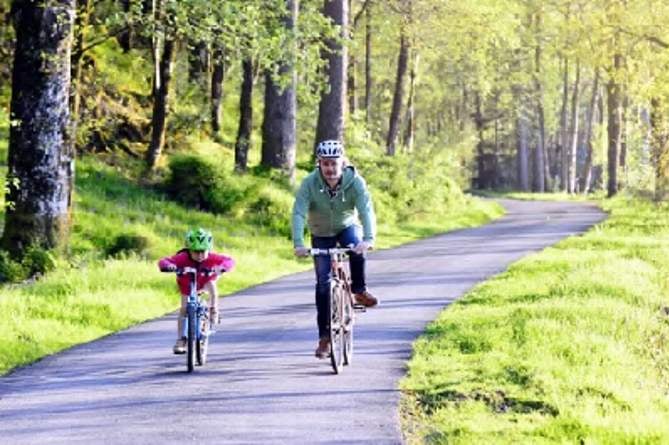 Subscribe newsletter
Subscribe to our email and get updates right in your inbox.
A PROJECT to create a vehicle free 'green route' between Chagford and Moretonhampstead has been put on hold due to work pressures on one of the key players.
The Greenway Project feasibility study was due to be completed this month but has been delayed by Sustrans, which helps communities create ecologically-friendly travel routes.
Sustrans is examining the viability of the project but the organisation has said that it currently cannot complete the study.
A Sustrans spokesperson said: 'Recent Government investment has indeed meant that we are busier than ever on this mission.
The Greenway Project feasibility study is progressing well and will be delivered in line with client expectations.'
A planned public meeting cannot take place without a steering group first reviewing the findings of the feasibility study which will will focus on examining the ecological impact of the pathway.
As yet it is unclear when the public meeting will now take place but Greenway Project campaigners hope it will still happen in November.
'It's just taken way longer than we anticipated,' said Nicky Heyworth, ward councillor for Chagford at West Devon Borough Council and supporter of the Greenway Project.
'We were hoping to have a meeting in November which we still hope we can have.'
She added that the delay in the public meeting is causing anxiety and the spread of misinformation because landowners are unsure of what the project entails and how it will affect them. 
The Greenway Project aims to create a multi-purpose pathway between Moretonhampstead and Chagford in order to encourage people to lead healthier, greener and more active lifestyles and provide a safer route for children to use.
It will be available to anyone including cyclists, dog walkers and horse riders and will also be accessible to wheelchair users.
Greenway Project campaigners are now planning to extend the route to connect Chagford with Okehampton and the A38 with the A30.
The aim is to link bus connections, cycle facilities, electric vehicle charging points and car parking at Okehampton Parkway Railway Station.
The project has recently suffered a big disappointment as it failed to receive any funding for the extension.
On its crowdfunding page, the campaigners said: 'Covid has shown us all how vulnerable obesity makes us, and how essential green exercise is to our mental and physical wellbeing. 
'We have been working with Sustrans to finalise the details of the route, and begin to talk to farmers and landowners.'
Some landowners and farmers have raised concerns over the potential impact of the pathway, such as increased noise levels and the environmental impact of it.