Even 'grumpy' unicorns like to read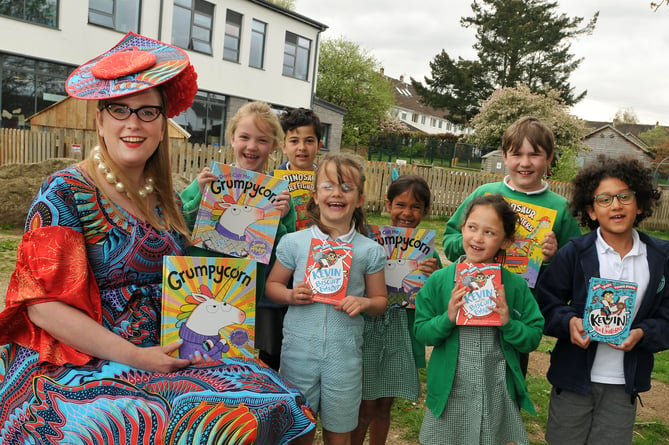 Chagford Primary School. Children's author and illustrator Sarah McIntyre takes up her new role as the school's Patron of reading.
(Photo©Steve Pope /MDA270422A_SP008 )
Subscribe newsletter
Subscribe to our email and get updates right in your inbox.
Author and illustrator Sarah McIntyre spent a day at Chagford Primary School in her new role as the school's Patron of Reading.
Sarah will visit the school several times over the course of the next year to enthuse the children in reading and, hopefully, to inspire them to become better writers too.
She is the author of the very successful 'Grumpycorn' books and illustrator of the 'Kevin the Flying Pony' stories which she co-creates with Philip Reeve.
Sarah paints, draws and creates art in a bewildering variety of ways and is the perfect person to inspire young people to create art and make stories.
For this first visit, Sarah was accompanied by Philip Reeve – author of the Mortal Engines Quartet and 'Utterly Dark and the Face of the Deep' as well as the 'Reeve and McIntyre' books that they produce together.
Ed Finch, principal at Chagford Primary, said: 'We are so excited with this visit – Sarah is a genuine superstar and the children had an absolute ball with her and Philip."
This visit and the 'patron of reading' programme at Chagford Primary have been funded through the generosity of the Chagword Literary Festival.
Sarah McIntyre's website can be found at Jabberworks | Children's Illustrator and Writer
Sarah said: 'I'm so excited to meet my new Patron of Reading school and find out what the children are already getting up to with reading, story making and drawing.
'I hope to inspire them, but I also get a lot of inspiration from seeing how children relate to our books – which bits make them laugh, and draw in a quick breath – and exploring the inventive ways their brains work, asking them for new ideas,' added Sarah.
'Big thanks to the head, Ed Finch, for inviting me, and to Tucker Sorrell at Astor's Books for helping get books to the children so they can read them right away!'
Comments
To leave a comment you need to create an account. |
All comments 0