Delighted with Teignmouth's terrific Art Trail
Saturday 6th August 2022 11:00 am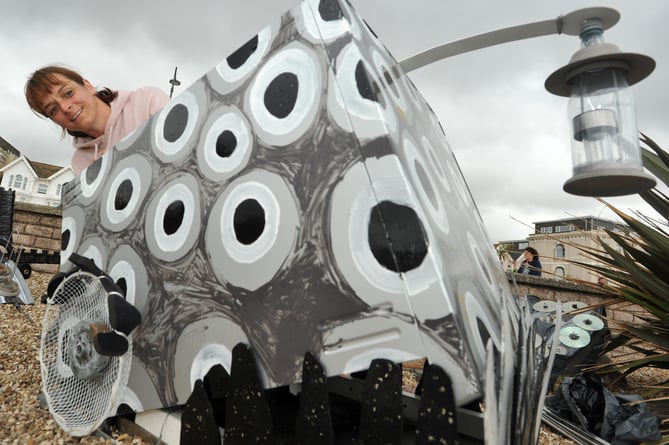 Subscribe newsletter
Subscribe to our email and get updates right in your inbox.
ORGANISERS of Teignmouth's TRAIL exhibition are delighted with the contributions from artists and community groups to this year's seafront display.
At the Eastcliffe end of the TRAIL the show starts with Gail Marshall's Monsters from the Deep.
Gail makes sculptures and amazing costumes from sterile medical waste, basically the bags that scrubs and operating theatre sheets are delivered in and this year she has made a whole series of fish.
Melissa Muldoon is a local artist from Dawlish who has made monsters from old washing machines, imagining they could eat all the waste from the sea.
Malcolm Curley has created a brilliant Dodo, borrowed from his Bridgetown Safari Trail in Totnes.
A local group of Teignmouth artists called LWM have created a striking piece at the other end of the prom.
For the first time, a team of staff from Hobby Craft Staff has created a dolphin sculpture.
TRAIL spokesman Amy MacCarthy said: 'We have a really good representation from schools this year, great to see them coming back in force after Covid19.
'Dawlish College has made a piece about fish and our love of fish and chips and Hazeldown Primary School has made a celebration of nature with a butterfly.
'Our Lady and St Patrick Primary School had a day's workshop with the TRAIL artists learning about the 17 sustainable development goals and depicting them on recycled wooden boxes.
'Montgomery Primary School in Exeter also join us every year, teacher Sarah Pratt lives in Teignmouth and always takes part.'
Community entries are strong again this year with Co-Ordinate who work with disabled adults in Torbay have provided a floral piece made from old plastic bottles.
Teignmouth In Mind and Environment (TIME), led by the TRAIL artists, have created two pieces, one a satellite made from all the junk cluttering up space, like an old satellite orbiting earth and the Saturday group made a piece based on the idea of moths to a flame, highlighting the importance of the insect world and how fragile our biodiversity is.
Both the TRAIL organisers are also submitting work, Sam Lock has made a wonderful underwater scene with corals and a turtle and Amy has created two pieces using recycled scraps of waste glass from her stained glass business.
One of these is an old broken windsurf which she has mosaiced highlighting the wasteful consumerism of leisure pursuits and a roundal depicting the 10 most endangered species in the UK.
Amy said: 'Despite the set backs of Camphill's piece being destroyed, we have a great show this year with some really skilful and thought provoking sculptures, passers by have been really lovely about the TRAIL and the exhibits this year.
'As ever we have strong support from the town with many local businesses sponsoring us.'
Comments
To leave a comment you need to create an account. |
All comments 0