Diseased woodland will be decimated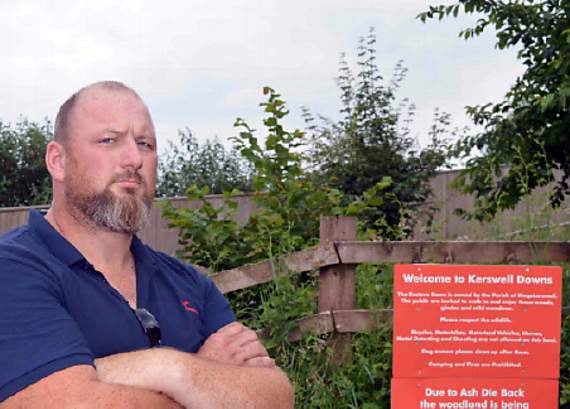 Subscribe newsletter
Subscribe to our email and get updates right in your inbox.
A CHERISHED beauty spot has been 'decimated' by Ash Dieback with around 90 per cent of the trees being infected with the killer disease.
An assessment of Kerswell Downs last week found that almost all the trees were riddled with the fungus which will result in them dying.
Kingskerswell Parish Council, under the chairmanship of John Radford, has restarted a task force and is looking for volunteers to become wardens of the forest to try to protect the rich habitat.
The woodland was gifted to the villagers of Kingskerswell to be enjoyed by all.
Dominic Scanion, of Aspect Tree Consultancy, said he was shocked to find how fast the disease had advanced when he inspected.
'It's one of the worst cases I've seen,' he explained. 'It's ripped right through that woodland which is almost entirely made up of ash.'
'They have a real problem there,' he added.
How long it takes to succumb to the infection varies from tree to tree. The infection 'is not discriminating' between young and old trees, Dominic explained, which came as 'a shock' to the tree specialist just how fast younger trees showed signs of leaf loss.
Dominic said the disease spread through South Devon last summer, while coronavirus was keeping us housebound.
'It's the tree version of Covid-19,' he added.
'It's come through the Westcountry at an alarming pace.'
Trees that are located close to roads and paths will have to be cut down to ensure they cannot injure anyone.
Former parish councillor and nature fanatic, Andrew Hartley, explained how this 'special' spot was under threat.
He said the flora and fauna on the site were pristine, with a rare form of grass, known as calcareous grassland, located next to the woods providing a rich habitat for birds, insects and mammals.
While showing the Mid-Devon Advertiser around last week, a buzzard landed on a nearby electricity pole, scanning the long grass for prey before taking flight.
Andrew said: 'I want to protect this special place on my doorstep.
'Ash Dieback will completely change this woodland.
'We have the richest flora and fauna, especially with the grassland and woodland habitats.'
'Obviously this is a nationwide problem, but it's really started to hit home now.'
The Kingskerswell Natural History Society have been hard at work in mitigating the damage and encouraging new growth.
Members of the volunteer group hope they can preserve the space for future generations.