Challenges facing the force
Cllr Mike Joyce quizzed South Devon's new Police Commander, Chief Superintendent Roy Linden.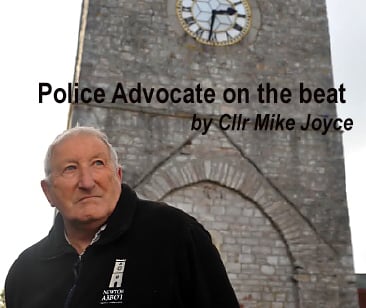 Subscribe newsletter
Subscribe to our email and get updates right in your inbox.
---
Who is Chief Superintendent Roy Linden?
---
Chief Superintendent Linden has been in the force for nearly 20 years, with his service interspersed with some time spent working in the Middle East.
On returning to the Force in 2006, he became a detective, working in CID, Public Protection and Major Crime where he was the Deputy Force Lead. His most recent post prior to moving to South Devon was the Head of CID in Plymouth.
He lives and works in South Devon and his BCU (Basic Command Unit) covers South Hams, Torbay and Teignbridge, and is responsible for approximately 400 personnel including Police Officers, staff, Police Community Support Officers (PCSOs) and volunteers including the Special Constabulary.
He is supported by a Senior Management Team comprising three Superintendents, three Chief Inspectors, a Special Constabulary Superintendent, and specialist police staff providing support in HR, performance and administration.
Their challenges include, but are not limited to geography, with a significant difference in policing challenged between the rural and urban areas across the BCU, the impact of additional visitors during the summer, and a significant variance in the level of social deprivation.
Chief Superintendent Linden said he was looking forward to working with a variety of organisations to ensure South Devon remains one of the safest places in the country in which to live, work and visit.
'I have already attended meetings with various partners, councillors, volunteers and members of the public. Listening to people's views is vitally important because it enables me to understand the different views and perspectives and ensure our policing services reflect this,' he told me.
'I also want to make sure the police officers, PCSOs, staff and volunteers who work in South Devon are supported and valued.
They are what makes policing in South Devon such a success. 'The police service faces both new and evolving crime challenges over the coming years and we will see a greater use of technology.'
---
What are the greatest challenges facing the area?
---
He said these would be disrupting drug supply and organised criminality associated with County Lines networks, reducing serious violence, (especially regarding violence against women and girls and violence associated with the night-time economy), domestic abuse and antisocial behaviour.
The list is the operational priorities, but he recognised new challenges continually arise and it is important to address concerns regarding the perception of crime within South Devon.
---
How does the Chief Superintendent see the role of Police Advocates?
---
'Police Advocates are very important and can help improve communication between the Police and the public,' he said.
'For example, the Councillor Advocate Scheme builds communication links between local councillors, the Police and the Police and Crime Commissioner.
'The Police Advocate Scheme should evolve and flourish and should reflect the unique nature of each BCU.'
Chief Superintendent Linden described Newton Abbot's advocate scheme as an integral part of policing the town.
---
How does the Chief Superintendent view Speed Watch?
---
In essence he said Speed Watch groups have become an integral part of addressing the impact of speeding on our communities, reducing one of the fatal five (which refers to the five factors that are most associated with death and serious injuries on our road network).
Chief Superintendent Linden stated that whenever and wherever possible, he will use resources to support Speed Watch during their sessions throughout South Devon BCU.
My thanks to Chief Superintendent Linden for finding the time to talk to me.
Comments
To leave a comment you need to create an account. |
All comments 0